Our connected Hybrid Box wins the hearts of automotive logistics experts.
The title left no room for doubt: "Digital, connected and sustainable logistics". It was an interesting round table in digital format organized by AutoRevista with the sponsorship of Global Mobility Call, the event on new mobility will open at IFEMA MADRID in a few dates. Among its speakers, all of the highest level and very representative of the mobility industry, was our colleague Amparo Vázquez. For two hours, they shared ideas, challenges and proposals that we summarize below.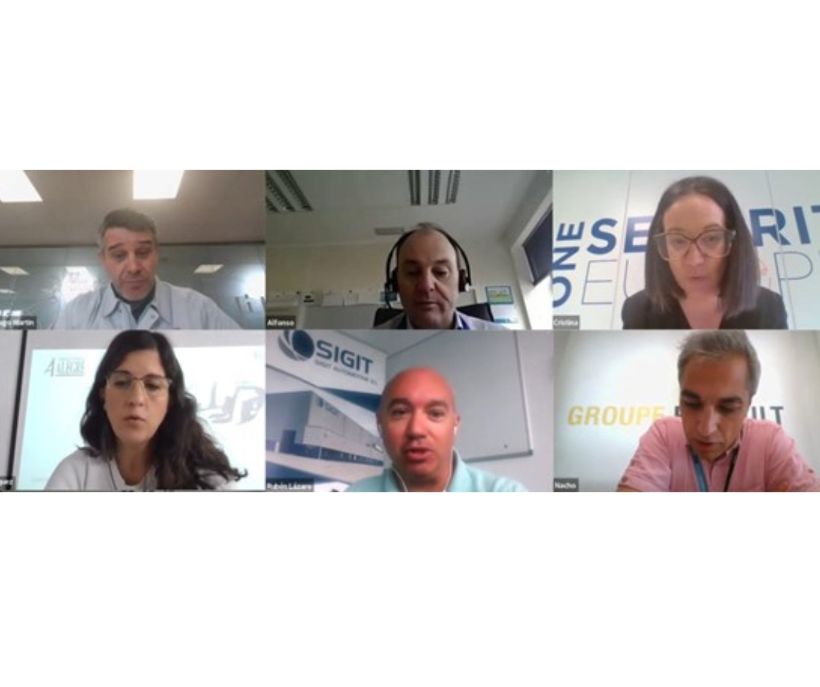 The speakers at the round table were mainly experts in automotive logistics. In addition to our R&D&I director, there were Santiago Martín (Production Engineering & Production Control Manager at Nissan), José Ignacio García Murillo (Supply Chain Iberia Director at Renault Group in Spain), Cristina Martínez (Customer Service Manager at Saint Gobain Sekurit), Rubén Lázaro (Logistics Manager at Sigit) and Alfonso Eslava (Logistics Director at Volkswagen Navarra).
As responsible for supply and logistics chain of the industry (OEMs and Tier 1), all made at the beginning a presentation of the current situation of their companies. They commented on how their companies are coping with the current instability in the sector, how they have been affected by the lack of components and how they have had to adapt in order to ensure the supply of their products.
The most repeated word was flexibility.
The need for real-time information
In the field of digitization, all these experts agreed on the importance of information to be able to connect transport flows and assess the impact on these transports, the importance of a good ERP and the need for real-time information. It was also pointed out that paper must be forgotten once and for all. Everyone also agreed on the need to constantly seek to optimize resources, which must be agile and flexible.
Industrias Alegre, as an expert company in the supply of automotive parts and as manufacturers of returnable containers for industry, wanted to share with the rest of the participants our experience in the use of containers and the origin of the idea of the Smart Hybrid Box project. Amparo Vázquez was able to explain why we decided, almost three years ago, to develop a traceability system that would allow us to geolocate our containers and thus put an end to day-to-day inefficiencies, physical inventory, losses, etc., and work with the information from the containers in real time.
Ensuring traceability of parts
It was very interesting to learn that, in general, all the parties involved had solved the traceability of their entire trucks, but not the timely and individualized geolocation of the containers. This means that, today, even very efficient organizations are still dealing with the typical inefficiencies of a supply system with returnable packaging: losses, lack of empty containers when needed, etc. Naturally, we were delighted that our solution aroused their interest and that the attendees wanted to know in detail how this product manages to put an end to these inefficiencies.
Want more details? In this link you have the complete round table.